[custom_frame_left]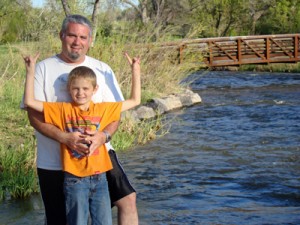 [/custom_frame_left]Talon and Tigger from 1Dad1Kid.com are two inspirations for living your dream despite the personal obstacles.
Many people have asked me, "What about wanting to travel, but dealing with health concerns, special needs children, etc.?"
If traveling is what you want to do, then it's possible to make it happen, no matter the road blocks.
Even if the challenge seems daunting, you can approach the task one small step at a time, and use it as a process for personal growth.
Who are you? (Names, ages of your family members, and something unique about you)
Talon, age 42; and Tigger, age 9. And no, that isn't my son's real name.
That's just my nickname for him because he never just walks, he always bounces and he's "fun, fun, fun." Seemed appropriate.
He also gets called Monkey Boy (loves climbing trees) on a regular basis.
How does your family travel? What adventure are you pursuing? (Living abroad, by plane, boat, country hopping, road trip, bike trip, etc.)
So far we have mostly traveled by plane and car. We are currently on an indefinite round-the-world trip.
We'll be mostly doing overland and by boat but will have some plane rides. At some point, we might get a hold of some bikes and do some long-distance biking trips, but we'll see how things go.
We'll be slow traveling and plan on spending probably 2 years or so exploring Central & South America before we visit Easter Island and Antartica and then head to Europe to begin on the other side of the world.
We will probably spend at least a year in Africa and will spend many years in Asia.
What is your family vision/mission? Why do you do what you do?
Our family motto is Vivez sans regrets! (Live without regrets!)
I have many things I want to get out of this trip:  Getting more living into my life, raising my son as a global citizen, and we plan on doing volunteer work as we travel.
I'm hoping to also train people energy healing techniques in some of the areas we stay in so that I can continue to pass along healing work.
What challenges have you overcome to do what you're doing?
Where do I begin? Personal challenges have been ever present in my life.
I'm a single dad and adopted Tigger when he was 6 from foster care. So he has overcome a lot as well.
He has some special needs, and I've had to learn how to help his anxiety and sensory processing issues which can be quite the challenge when going to foreign countries, especially when we go places I've never been.
I have had to override my natural desire for security and stability to get the bravery to quit my very good full-time job, get rid of all our stuff, etc, to even consider taking my son around the world while unschooling him, dealing with his special needs, and my own minor medical issues.
I'm also a cancer survivor and struggle with arthritis complications.
What would you tell others who want to live an unconventional family life?
DO IT! I have worked in trauma, intensive care, and hospice for over a decade now and constantly hear from people how much they regret not pursuing their dreams.
In fact I have a patient right now who has been saving money and working for many years so she could retire this year and go on an Alaska cruise. This has been a lifelong dream for her.
Unfortunately, she had a massive stroke and is now in a nursing home dying without ever realizing her dream.  So do it now while you still can.
We never know what tomorrow may bring.  I'd rather be on my death bed reminiscing about all the adventures I DID have than mourning the ones I won't be able to.
You can follow their adventures at 1Dad1Kid.com or on Twitter @1Dad1Kid
Comments
comments
Powered by New Facebook Comments