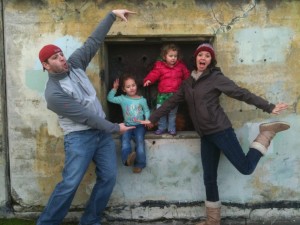 "Freedom fighters in the revolution to free the masses of the insidious "average life", Heidi and Sean Marshall are an inspiring family that seem to be lots and lots of fun!
Wanting to 'blast free of the ordinary life', the Marshalls started making plans to liquidate their stuff and go 'a walkabout'.
While in the midst of their planning, Sean was unexpectedly laid off from his job. After the initial shock, they both realized that instead of a setback, this was an opportunity for them to move ahead with their big dreams.
Selling their home, they took to the road with their two little girls where they have been exploring the Western United States .
Full of fun, adventure and enthusiasm for living and 'being real', you can learn more about them at www.FamilyRocketship.com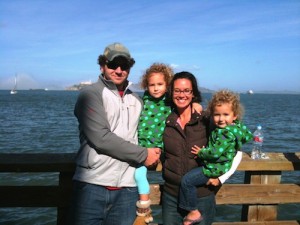 1. Who are you? (Names, ages of your family members, and something unique about you).
Heidi & Sean Marshall (both 33 years old), Abigail (4) and Adrianna (2).
Heidi always wanted to marry a guy with curly hair. She got her wish and now both her daughters also have super curly hair.
2.How does your family travel? What adventure are you pursuing? (Living abroad, by plane, boat, country hopping, road trip, bike trip, etc.)
Most of our travel with the the girls so far has been road trips around the Western U.S. We're gearing up for a big trip around the country before starting our international adventures.
We're excited because while we have both spent time outside the U.S. we've never taken our girls out of the country.
3. What is your family vision/mission? Why do you do what you do?
Our family mission is to "free the masses from the insidious average life".  There's no better way to shake up your life and see what's truly important to you than by selling everything you own and exploring the world.
We feel strongly that everyone should live a big, bold life. Our overall message is that life should be awesome. Let go of what you think others expect of you and realize that deep down, most people are really waiting for you to let your light shine.
4. What challenges have you overcome to do what you're doing?
Our first challenge was being able to let go of so called "normal life". We'd been living a certain way for a long time and it took a while for our dreams to become more important than the life we thought we were supposed to be living.
The next challenge was letting go of our stuff. It started slowly but once we got going, it was fun and liberating! The biggest challenge is making sure we have enough money to travel and continue to generate income while being mobile.
Fortunately Sean has a background in online marketing and has been able to work with a number of clients all while staying mobile. Our next challenge now lies in making preparations to leave the country for a while.
5. What would you tell others who want to live an unconventional family life?
First, really take some time to reflect of what you want to get out of life.
What do you want to achieve? What do you want to trade the minutes of your life for? What do you want to leave behind as your legacy?
It's important to take time to think about these things and then even more importantly, take steps to actually doing them!
For us, we realized that in the end, nothing was more important than family, making sure our life was full of adventure, and helping as many others as possible along the way. This will probably hold true for most people out there. It's just a matter of actually doing it!
Comments
comments
Powered by New Facebook Comments