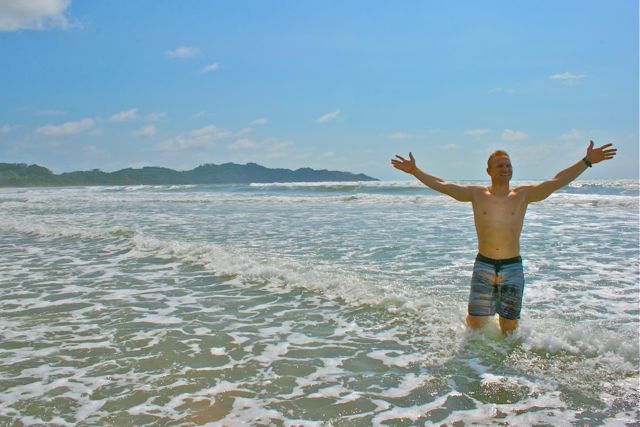 "Without a vision, the people perish."
Proverbs 29:18
"He's not finding any meaning to life, and struggling with depression. He wrote me looking for some help or direction" my husband tells me of the friend who emailed him this morning.
The suns not yet up, and I just got out of bed. My husband's been up already for who-knows-how-long.
My cell phone jingles signaling that I've got a text message.
It's from my good friend who sends another name idea for the literacy project we're orchestrating.
I laugh realizing that she's thinking about it this early too. It's what got me out of bed. It's also what keeps me up until two or three a.m. at night.
We get back to discussing this friend's dilemma.
So many people live lives of 'quiet desperation' as Thoreau put it.
Trudging through the mundane, working to pay their bills, anchored by their debt, doing the same thing day after day after day, they become numb, or maybe depressed.
Why do so many of us live this way? I know I've been there - suffering, stressed and tired of it all. Or worse, feeling nothing. No passion, no joy, no enthusiasm. Just numb.
You look at the people who hop out of bed in the morning, enthused to begin the day, finding joy in it and from it, and you wonder, what makes them so gall-darn cheerful?
The people who get excited about life are the people who have a vision, a dream, a motivating factor so big that it fills their life.
They eat it, sleep it, dream it and think it until they do it.
Energy courses through their veins. They eat enthusiasm for breakfast.
Having a dream so big that it consumes your thoughts, is evident in your step, overflows into your voice and directs all your decisions keeps you so busy you don't have time to be depressed or live in 'quiet desperation.'
"Explore. Dream. Discover."
We don't share the same vision - you and I, or others on this spaceship called Earth.
I've been intoxicated by the elixir of dreams when I plan my next family travel adventure or organize a strategy for improving the world's problems. Those are my daring ventures.
Whatever your daring venture may be - starting that business, sailing the seven seas, writing that book or orchestrating that philanthropic initiative -DREAM IT, THEN DO IT!
Get a BIG DREAM and live off it. A dream so big you can't contain it.
Here are 4 reasons for planning that daring venture NOW:
1. A Reason to Get Up in the Morning
"Morning is when the wick is lit.
A flame ignited, the day delighted with heat and light,
we start the fight for something more than before."
~Jeb Dickerson
There are a thousand wonderful reasons to get up everyday - from the sun streaming in the window to the smiles of our children.
But when you have a vision SO BIG and exciting that you can't wait to hop out of bed to work on it, you know you're on to something.
2. With a WHY Big Enough, You'll Discover the HOW
"Go confidently in the direction of your dreams.
Live the life you have imagined.
As you simplify your life, the laws of the universe will be simpler."
~Henry David Thoreau
Don't worry if you are clueless as to how you'll accomplish your big dream. What matters is that you know why you want to accomplish it. As you think, eat, sleep and dream your dream, you'll discover the how. Guaranteed.
The more you 'work your plan', the more your dreams and goals will become believable and achievable.
In fact the more you think about, work toward, and imagine your dreams as reality, the more options and opportunities you'll discover for making it a reality.
3. Decisions Determine Destiny
"It's in your moments of decision that your destiny is shaped."
~Anthony Robbins
When you've got your big dream planned out- the one you never thought would happen - you discover that you begin making decisions differently.
Should I put the money down on the house, or buy that sailboat to pursue my daring venture?
Even the small decisions- to withhold from purchasing the movie so I can donate it to my new project - can bring about big results when repeated over time.
One choice at a time, you'll see your dream come to fruition.
4. Activate Your Subconscious
"Any thought that is passed on to the subconscious often enough
and convincingly enough is finally accepted."
~Robert Collier
Do you remember when you bought that new car, and suddenly you started seeing them all over town? It wasn't that suddenly the population was driving more of the same make and model as you, but that your subconscious was made aware that this was something to pay attention to.
When you tell yourself- "I can't make that trip a reality, there's no way it will happen," then that's what your subconscious looks for, ways that it can't happen.
But when you plan it, and work toward it as if it is going to happen (even if you don't know when or how), then your subconscious starts searching for ways to make it happen.
If you dream of breaking out of 'quiet desperation', then take action NOW by planning a venture that is bold, daring, and audacious!
Discover The Single Most Important Step for Living a Deliberate Life
Comments
comments
Powered by New Facebook Comments