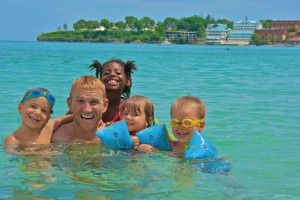 I'm currently in the process of compiling The Art of Family Travel.
And while there are countless travel books and blogs written to help you prepare for an overseas trip, this resource will help you to prepare for adventurous overseas (or at home) travel with your family.
This guide will encourage you to enrich your life and your family with the excitement, uncertainty, adventure, joy and growth that is the result of globe-trotting.
It will be a guide that you can refer to again and again as your family travel life matures.
It's written for families who are:
willing to make uncommon choices

wanting to carve out an extraordinary existence
interested in living a life of significance.
In reading it, you will discover how to orchestrate your life so that you can create  time and money freedom, cultivate courage, and inspire the initiative and commitment you need to turn your dreams of family travel and adventure into a reality.
You'll discover how to:
deal with new experiences
recognize adventure
develop flexibility

simplify your life
and most importantly how to overcome any myths and social conditioning about traveling the world with your family.
If you've ever felt a burning desire to do more, feel more or experience more with your family, but aren't sure how to find the money or time, or you're concerned about being 'selfish' or 'ruining' your children, then this book is for you.
If you've traveled before with your family, but you're looking to get more out of the experience by 'traveling' instead of 'touring', extending the stay, living abroad, or vagabonding long term, then this book is for you, too.
It isn't written for derelicts or vagrants, but for families who are committed to each other and to living a life filled with purpose, passion and adventure, however you decide to define it.
Travel provides ample opportunities to help your family grow, expand, discover, share, serve, overcome fears, find adventure, live with purpose and passion- in essence to live life to the fullest.
This book presents family travel not as an impossibility, or an escape from reality, responsibility or stability, but as an effective tool for rearing your children.
Since this book is still in the process of being completed, I wanted to ask you-
"What do YOU want to know?"

What questions would you like addressed?
Are you curious about how to fund your trips, how to choose a destination, or what to pack?
Or maybe you need to know about educating your children while abroad, getting visas and immunizations, or how to create meaningful service experiences.
Whatever it is you're wondering about traveling with your family, I want to know.
That's why I've created this platform for discussion. Please read the comments below from others, and leave a comment, asking a question about something YOU want to know!
Make sure to watch the video on why we live our nomadic life!
Comments
comments
Powered by New Facebook Comments