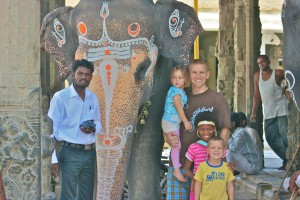 Our family of six - dad, mom (pregnant with #5) and four kids ages 7, 6, 4 and 3 - visit a Hindu temple in Kanchipuram, Tamil Nadu, India.
A few of us our brave enough to climb atop one of the giant, beautiful resident (and sacred) elephants.
If you can't see/watch this video, click here.
Or to watch it on Vimeo's site, click here.
Comments
comments
Powered by New Facebook Comments